Hospitality at Nomad's Land is integral to our community life.
We opened a seasonal traveler's hostel in the autumn of 2017, open from April- June and from September-November each year. We love hosting locals seeking a weekend get-away, group retreats, and community-minded travelers from all over the world. Whether staying in a cozy rustic Hobbit House, a revamped vintage camper, or a funky converted school bus, we think you will have a delightfully different hostel experience.
Throughout your stay on the Land, there is time for quiet reflection, hands-on work in the gardens, or outdoor activities near-by (like Cloudland Canyon, Little River Canyon, Noccallula Falls, and Horse Pens 40 . . . just to name a few). We are devoted to providing a place of spiritual retreat as well, so look through our library, join us for prayer, or jam with us around the fire! We welcome you to join us at our weekly community pot-luck dinners and we offer home-cooked breakfasts on the weekends for our Hostel guests. Our hope is that daily life at Nomad's Land can be a blessing to you, and encourage you along your way.
During our Hostel Season (April- June and Sep.-Nov.) lodging can be arranged through Airbnb or by emailing booking.nomadsrest@gmail.com
Below is more information about several of our beautiful spaces. Click the titles to open their Airbnb links for more details.
Hope to see you here at the Land soon!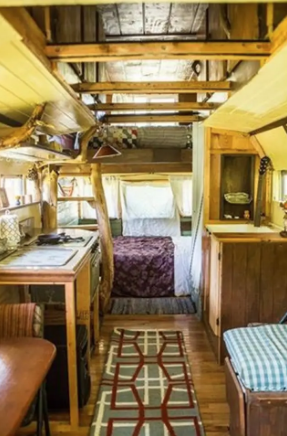 $50 a night
4 guests, 2 beds, 2 shared baths near by
*Pet Friendly*
$40 a night
2 guests, 1 bed, 2 shared baths near by